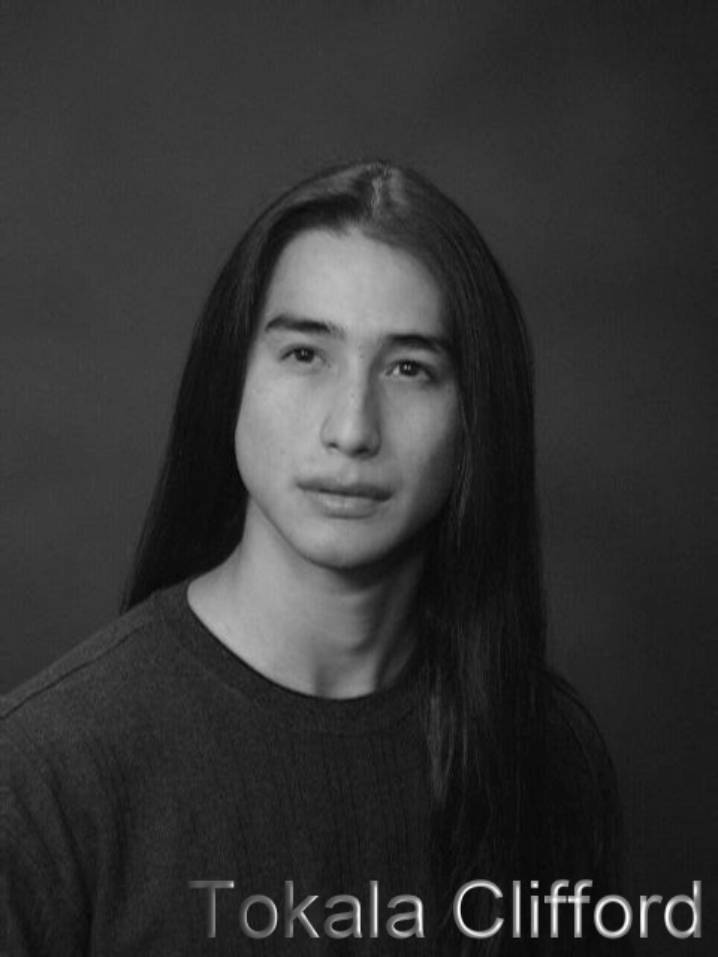 Tokala Clifford
U.S. AND INTERNATIONAL HIRE
Native American/ First Nations Actor
REPRESENTATIVE:                                                                                             HT:         6'2"
DARRYL MORK                                                                                                    WT:         150 lbs.
DARRYL MORK TALENT MANAGEMENT                                                   HAIR:           Dark Brown
(780) 455-4215                                                                                              EYES:           Brown
                                                                                                                 HERITAGE:           OGLALA LAKOTA
                                                                                                                                (Member Oglala Sioux Tribe)
                                                                                                           LANGUAGES:             English & Lakota
Selected Filmography
FILM & TELEVISION
Hidalgo                                                                  Ghost Dancer                                       (Dir. Joe Johnston)
                                                                                                                                                Walt Disney Pictures/
                                                                                                                                                Casey Silver Productions
DreamKeeper                                                      Red Deer – Principal  ***                   (Dir. Steven Barron)
                                                                                                                                                ABC/ Hallmark Entertainment
Skins                                                                      Black Lodge Boy – Principal             (Dir. Chris Eyre)
First Look Media/ Grandview Pictures/
Starz! Encore Entertainment
Yoy – Warriors of the Heart                                Self                                                         (Dir. Boudewijn Koole)
                                                                                                                                                Netherlands TV
First Kill Ceremony                                             Self                                                         (Dir. Akiso Yokusuka)
NHK TV – Japan
Lakota/Oglala History                                         Lakota Boy                                            (Dir. Takahiro Fujimoto)
                                                                                                                                                Japan TV
The Native Americans                                        Pte Man/ Tokahe                                  (Pat Mitchell)
                                                                                                                                                CNN
Return to Wounded Knee                                  Self                                                         (Dan Score)
                                                                                                                                                CNN
PHOTOGRAPHIC
The Seventh Generation (U.S.)                         Model                                                     (Katrin Freisager)
Silberstreifen (Germany)                                                                                                  Das Magazin – Germany
*Won the World Press Photo Award
1995 International Portraiture
Grand Prize
THEATRE
Sherlock's Last Case                                         Damion Moriarty – Lead                      (Dir. Jen Schreiber)
                                                                                                                                                Red Cloud Theater
God's Favorite                                                      David Benjamin                                    (Dir. Jen Schreiber)
                                                                                                                                                Red Cloud Theater
TRAINING
Performing Arts - Jen Schreiber 1995 – 1996
Theatrical Performance – Jen Schreiber 1995 – 1996
SPECIAL SKILLS
Shotokan Karate, Brazilian Capawara, Horseback Riding (Western, Stunt, Bareback, & Lakota War/ Trick), Lakota Style Archery, Powwow Dancing (Traditional & Grass Style), Lakota/ Native Music (Drumming, Singing, Flute), Lakota/ Native Culture, Lakota Language, Football, Basketball, Computer Literate, Literature (Writing, Poetry, Scriptwriting), Visual Arts, Crafts (Beading, Sewing, Carving), Medicinal Native Plants, Stand-up Comedy, Hip Hop Music (Performance & Writing).
SPECIAL PROJECTS
*** Lakota Music & Culture Consultant for DreamKeeper (On Score as Recording Artist as well).